b.l.u.e.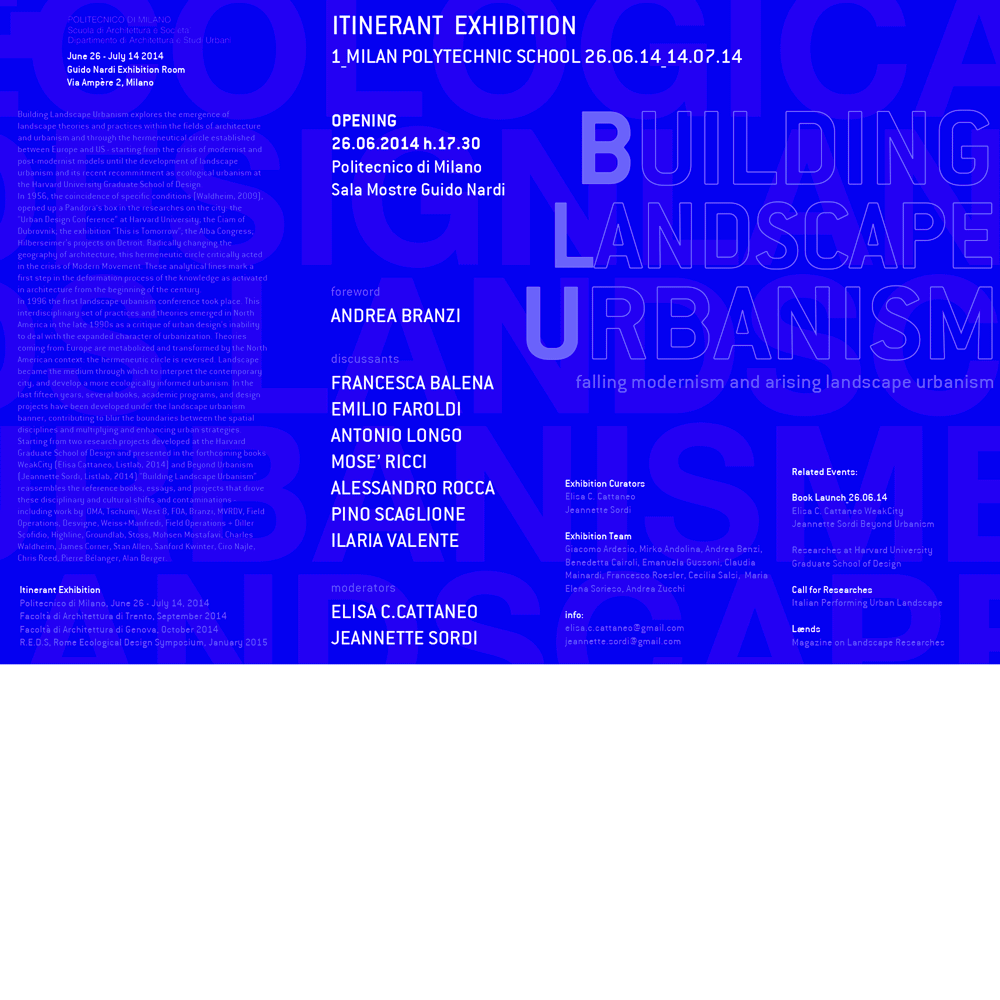 //////////////////////////////////////////
building landscape urbanism
(B.L.U.E.) explores the emergence of landscape theories and practices within the fields of architecture and urbanism and through the hermeneutical circle established between Europe and U.S. - starting from the crisis of modernist and post-modernist models until the development of landscape urbanism and its recent recommitment as ecological urbanism at the Harvard university graduate school of design. in 1956, the coincidence of specific conditions (
Waldheim
, 2009) opened up a Pandora's box in the researches on the city: the "urban design conference" at Harvard university; the CIAM of Dubrovnik; the exhibition "this is tomorrow;" the alba congress; Ludwig Hilberseimer's projects on Detroit. this hermeneutic circle, critically acted in the crisis of modern movement, radically changing the geography of architecture. these analytical lines mark a first step in the deformation process of mainstream architectural knowledge since the beginning of the century.
in 1996 the first landscape urbanism conference took place. this interdisciplinary set of practices and theories emerged in North America in the late 1990s as a critique of urban design's inability to deal with the expanded character of urbanization. theories coming from europe have been metabolized and transformed by the North American context: the hermeneutic circle is reversed.
landscape became the medium through which to interpret the contemporary city, and develop a more ecologically informed urbanism. in the last fifteen years, several books, academic programs, and design projects have been developed under the landscape urbanism banner, contributing to blur the boundaries between the spatial disciplines and multiplying and enhancing urban strategies. starting from
two research
projects developed at the
Harvard graduate school of design
"building landscape urbanism" reassembles the reference books, essays, and projects that drove these disciplinary and cultural shifts and contaminations. finally the exhibition aims to look at the italian context now. influenced (or not) by landscape urbanism theories and projects, increasingly researches are expanding disciplinarity boundaries and foreign approaches: opening new fields for urban research and design.
//////////////////////////////////////////
main exhibitions

2014 jun. 26 - jul. 14, Milan
2015 jan. 18 - feb. 14, Bolzan
//////////////////////////////////////////
conferences/speakers/partecipants

2014 jun. 26
title: B.L.U.
roundtable:
Andrea Branzi:
emeritus professor, Politecnico di Milano;
Giuseppe Scaglione:
full professor in urbanism, faculty of architecture of Trento;
Mosè Ricci:
full professor in urbanism, faculty of architecture of Genoa;
Alessandro Rocca:
assistant professor, Politecnico di Milano;
Antonio Longo:
assistant professor, Politecnico di Milano;
Ilaria Valente:
full professor in architectural and urban design and dean of the school of architecture, Politecnico di Milano;
Emilio Faroldi:
full professor in technology of architecture and director of bachelor course, Politecnico di Milano.
2015 jan. 31:
R.E.D.S, resilient ecological design symposium
title: B.L.E.U. building landscape ecological urbanism
organization:
dip. DATA, università la Sapienza di Roma with università di Genova, Basilicata, Napoli-Federico II, Palermo, Trento, IUAV, Politecnici di Bari e Torino, faculty of architecture of Bolzen.