nature through the mirror.
technonatural esperiments.
author: Elisa Cristiana Cattaneo
editors: Gianluca Finetti and Debora Vermi
publisher: Maggioli editore
series: Politecnica
year: first edition 2016
ISBN-13: 9788891615282
ISBN-10: 8891615285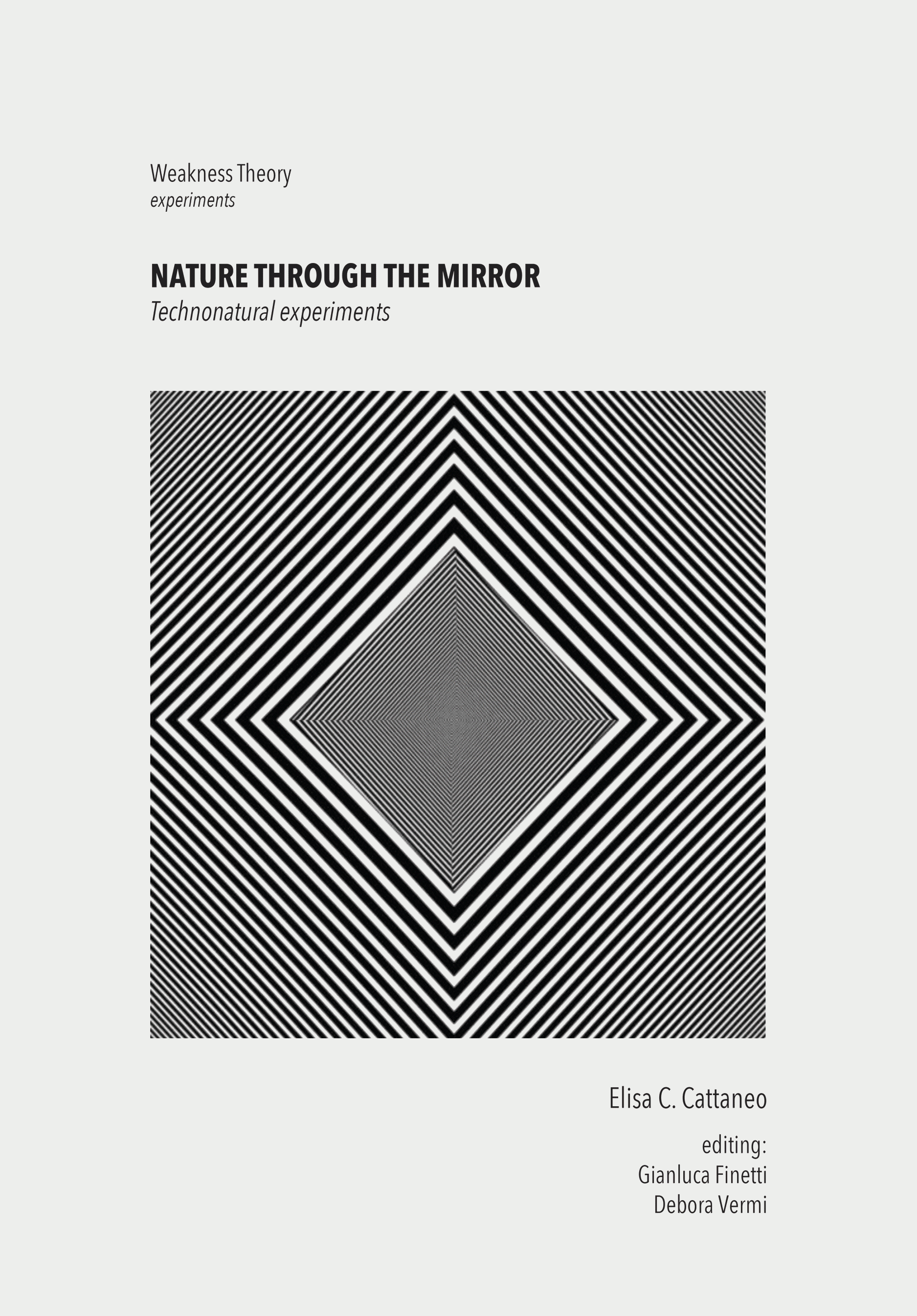 //////////////////////////////////////////
first, there's the room you can see through the glass that's just the same as our drawing room, only the things go the other way.
I can see all of it when I get upon a chair all but the bit behind the fireplace.
Oh! I do so wish I could see that bit...Well then, the books are something like our books, only the words go the wrong way; I know that, because I've held up one of our books to the glass, and then they hold up one in the other room.
"How would you like to live in Looking-glass House, Kitty? I wonder if they'd give you milk in there? Perhaps Looking-glass milk isn't good to drink.But oh, Kitty!Now we come to the passage.
You can just see a little peep of the passage in Looking-glass House, if you leave the door of our drawing-room wide open: and it's very like our passage as far as you can see, only you know it may be quite different on beyond.Oh, Kitty! How nice it would be if we could only get through into Looking-glass House!
I'm sure it's got, oh! such beautiful things in it! Let's pretend there's a way of getting through into it, somehow, Kitty.Let's pretend the glass has got all soft like gauze, so that we can get through. Why, it's turning into a sort of mist now,I declare! It'll be easy enough to get through".
She was up on the chimney-piece while she said this, though she hardly knew how she had got there.
And certainly the glass was beginning to melt away, just like a bright silvery mist.

L. Carroll, Alice through the looking glass, 1871.

//////////////////////////////////////////
this book is like an assemblage of experimental scientific results. a collection of outcomes of a procedure achieved in vitroduring the intensive course of landscape design I taught at the Politecnico di Milano in the 2015-2016 academic year.

the attempt has been to propose a renewal of the discipline that arises primarily from a conceptual experiment, and afterward as a formal result. so that an elemental process in science (observation of the object, scanning it in the laboratory, processing the outcome of the scan) will result in a new spatial modeling.

the experiment starts from a conceptual elaboration of an object in order to generate a conceptual territory. to demonstrate the infinite possibilities of the genesis of the space itself.

the phenomenological object (biological or ecological), the input of the experiment, is a pretext to give the same weight to all the parts of the living world. this is because, in a totally scientific and relational dimension of things, the anthropocentric role must be abandoned in order to understand how other things could generate a mental mechanism to step from one thing to another, in a totally preposterous way.

preposterous but effective, both to train students to transform any thing into a land of the art of planning and to deploy their "position" of designers to other paradigms still unknown. implying, therefore, a constantly changing vision, both real and conceptual.